Spoiler warning!
This page may contain details about a particular map and/or someone else's tips.
If you want to tackle the game unaided, click "Back" or a link to take you away from this page !
"1815"
is important as a year, but has also been tried as a
map key
, for
Imperialism
.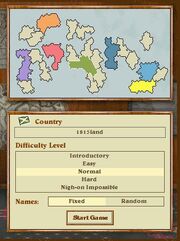 Wide variety of continent arrangements: red has an island to itself; teal and yellow adjoin one another and one MN; blue and orange each share a continent with two MNs; purple ditto with three; green ditto with five; the other two islands contain either one MN or two.
Green could be good if you like invading MNs, but not if you don't, because it has lots of desert and little hardwood, and the four fibre tiles are across the extensive hills or mountains.
Purple looks good, with five or more horse tiles and apparently balanced resources and two MNs for early invasion by land.
For Robin's purple, see purple subpage.
---
Community content is available under
CC-BY-SA
unless otherwise noted.